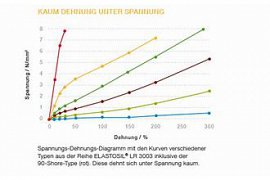 What is TPE ?
ThermoPlastic Elastomer
Thermoplastic elastomer (TPE) in fact, according to its name, which is composed of three words Thermo (heat), the plastic and the elastomer (elastic being) granules, plastic softness are the properties of rubber and are in the soft warmth are.

This is a material that certain methods comes the benefits of plastic and elastomer to the policy shift, and it can be used in the manufacture of plastic products used. In products such as plastics of granules thermoplastic elastomer in the plastic material used and, thereby softening it and flexible it can be otherwise, the plastic material brittle and dry.

one of the properties of the thermoplastic elastomer is that if to heat them in ... the software are and why they are thermoplastic, are said to be. Of these materials in the industries of plastic, appliances, automotive, packaging and ... can be used.
...