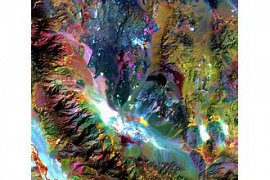 What is ASTER ?
Advanced Spaceborne Thermal Emission and Reflection Radiometer
advanced reflection and the oncoming heat that briefly, Esther (ASTER) is called the ... sensor, and one of the five tools of remote sensing, mounted on the satellite Terra, which is in the year 1999 by NASA in the orbit of the Earth was. This sensored from February 2000 to collect data on the surface of the Earth is busy.


the image of Esther from the desert quadrant Saudi
Esther, satellite images of the earth with the power breakdown of the top and in the 14 band of the electromagnetic spectrum in the range of the visible spectrum, infrared heat to prepare. Resolution images ester from 15 to 90 km. The data Ester in the production of maps, detailed the temperature of the surface land. ., the reflection and the height of the sea level, goes to work.

models of the world digital elevation Esther (ASTER GDEM) for free to all users download....