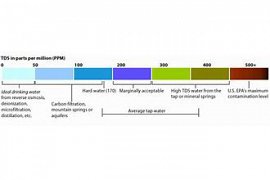 What is TDS ?
Total Dissolved Solids
Total Dissolved Solids (TDS), a measure of the content of the combination of all materials, organic and inorganic, contained in a liquid in molecular, etc. ionized or micro-granular (cell colloidal) is. T, Pain, can not be used as the main criteria determine the quality of the water, the more the degree of transparency of the water can determine. The order of the TDS, the Total Dissolved Solids in the water is equal to the sum of concentrations of all the ions available in the water. Water-soluble substances may be in terms of the nature of the "organic" or "mineral" are.

material non-organic (mineral) dissolved in water includes: minerals, metals, and gases are. Some of the organic materials for the colloidal particles, but the more organic materials for solution are. Organic contaminants may cause odors, color and the unpleasant taste of water, they are.

material derived from decomposed plants, organic chemicals and organic gases, etc. organic components dissolved in water make up.

many of the substances dissolved in water are undesirable. Minerals, gases and organic substances dissolved in water may cause color, taste and odor undesirable are. Some chemical compounds may be toxic, and some of the components of the organic solution has proven to be carcinogenic are. Of course, it should be noted that all the material soluble in water adverse are not. But the amount of dissolved substances desirable in the water very little."

units of measurement, TDS, mg / l) Mg/l, is it with the term PPM to learn....