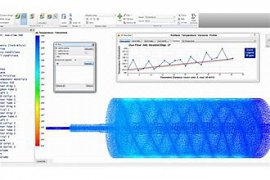 What is CFD ?
Computational Fluid Dynamics
Computational Fluid Dynamics, or C F, (CFD) is one of the branches of fluid mechanics that uses numerical analysis and numerical algorithms, etc. issues, including fluid, fluids to analysis. From computers to simulate the interaction of liquids and gases with surfaces, the boundary conditions used. This branch of fluid mechanics, the mechanics of the old to computer science and the capabilities of modern computing it in the second half of the twentieth century and in the century during New connects.

The Story of the Genesis and spread of Computational Fluid Dynamics can not be apart from the date of the invention. Vogue, etc. and the evolution of computers, the numbers cited. Until about the end of World War II, more practices related to solving fluid dynamics of the nature of the analytical or experimental). As with all innovation, outstanding scientific, in this case also refers to the exact time the beginning of Computational Fluid Dynamics . In most cases, the first job matters in this field to Richardson than. that in the year 1910 (ad) calculations related to how to broadcast the tension (stress distribution) in a dam made from building materials to financing.

In this work the Richardson method, the so-called relaxation (relaxation) to solve the Laplace equation used. He in this manner, the numerical solutions., the data provided come from the stage the previous iterations (iteration) to refresh all the values of the unknowns in a new step to work.
...