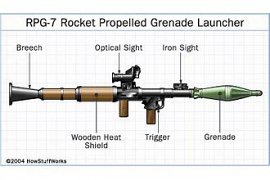 What is RPG ?
Rocket Propelled Grenade
A to any weapons, Semi-heavy grenade launchers said to be portable by hand and has been from the shoulder to shoot.

A (РПГ) stands for the word (Russian: ручной противотанковый гранатомёт) to the meaning of "grenade launchers manual".

from A in addition, the tank can be against the , equipment of war, non-armored, and also for the destruction of buildings and concrete, and even helicopters, fixed used....