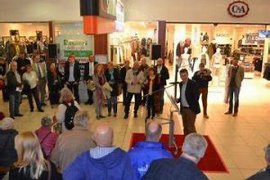 What is DDP ?
Deutsche Demokratische Partei
Democratic Party of Germany (DDP), a party of German, which was in 1918 by the leaders of the former Progress Party Republican creation(German: Fortschrittliche Volkspartei), the members of the left-wing party, the national liberals(German: Nationalliberale Partei) and the group that your upload music foundation was founded.

Democratic Party of Germany tends the left was. Also a political party with tendencies, the national, and of the opponents of the Treaty of Versailles. Next to the tendencies nationalistic, as well as disapprove with the interaction with all the world and protecting the minorities in society. Up before the rising of the Nazis, the party for this stance to taunt the party of the Jewish was read.

in 1930, the party to the party, the government of Germany (German: Deutsche Staatspartei, DStP) change the name of found, and finally, with pressure from the Nazis in 1933 disbanded.

members of the leadership of the party can be and Max Weber named. After 1945 and occupation of Germany, former members of the party, attract the party such as Free Democratic Party and Christian Democratic Union of Germany were....