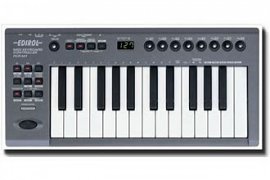 What is MIDI ?
Musical Instrument Digital Interface
Midi (Mid or Midi stands for Musical Instrument Digital Interface means "interfaces, digital musical instruments"), one of the templates, record sound on your computer is that despite the passage of time, the veteran has not, and their usages have been preserved.

main application template MIDI in the music. In fact, a case Mid contains musical notes, etc. information related to any maker, curtains, interruption and all the information of specialized music in Oncogene. For this reason, having a proper schedule, etc. can all this information from the extracted file we and file select on an electronic instrument connected to the computer - like a synthesizer - in the same way that the builder file . player.

in the majority of computers have a port for MIDI, as part of the ports and input-output sound card available that can tools music attached to it and the music played for records MIDI recording. Also can Notes to write and maker of music, it's for us to compose.

files midi size is very small occupy, and this is also for them an advantage is accounted. This format in a lot of electronics gadgets, including a cell phone also the application....