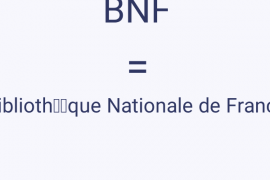 What is BNF ?
Bibliothèque Nationale de France
The National Library of France, or National (French: Bibliothèque nationale de France) in Paris, France, when the National Library in the world. The history of its establishment to the year 1368 AD pitted. Now, more than twenty million books, in which maintained.

the core of the original library collection Charles the fifth form that is in the year 1368, library, dedicated with almost 1000 manuscripts in one of the halls in the building Louvre for your Dyer. At the time of Louis XI (1483-1461) the number of manuscripts and books printed expropriated added to it. Charles VIII and Louis also to the development of it has the location of the library with the change of the place of residence of Kings, Palace to Palace, the other is changed. In the year 1523 curated library to "Guillaume has been a" famous scientist the humanities was assigned, and its location in the palace Blu-fixing was....