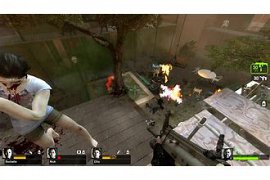 What is L4D ?
Left For Dead
The four surviving ( Child) (Left 4 Dead) is a horror game and first person shooting multiplayer, made by the company Valve and with the engine source for Microsoft Windows and Xbox 360.

In this game the player must with all sorts of zombie faced and categories on it saying that its the zombies to the category of Smoker ,Hunter, Bomber, and Tank are divided.

the game component of the type of story, but the things in itself that all will fascinate. The first and foremost factor that makes this game of the games together style a step ahead is the multiplayer mode it is. Part Single Player game is also four characters in the zombies drop it. A Demos short, but beautiful is the only introduction that mimics the you with the characters and the appearance of the cluttered and crowded city familiar makes....