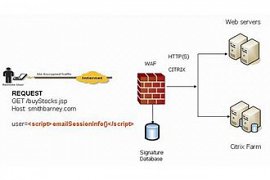 What is WAF ?
Web Application Firewall
An application layer firewall in the form of walls of fire (firewall) is that the input, output or availability of, to or by an application or service will control the track. Firewall (wall of fire) by monitoring and blocking the potential entrance who or invoke the system services that the policy configuration of the firewall to estimate not the practice track.

firewall software, usually in order to control all the traffic (communication) network on the layer of the OSI layer, applications can be built, and unlike a firewall, a network (stateful), that is, without having software to be able to control network traffic regarding a program or a specific software not can applications and the services to the particular control. The two main categories of firewall software are:

the walls of the fire software-based network
firewall software host-based (computer)....